Profile of a Break 90/80 Golfer
The Break 90/80 Player Program Is for players who have played a lot of golf and usually for a long time, but are really unsure whether they are practicing the right drills to become better on their own. Realizing they need to improve small amounts in a variety of aspects of the game in order to grow as a player and have a more complete game, would love nothing less than to play well with their friends, business associates and maybe enter some small local fun tournaments. These players practice and play frequently but are frustrated that they can't take their range game to the course. These players are tired of being a bogie + golfer….It's time for a change!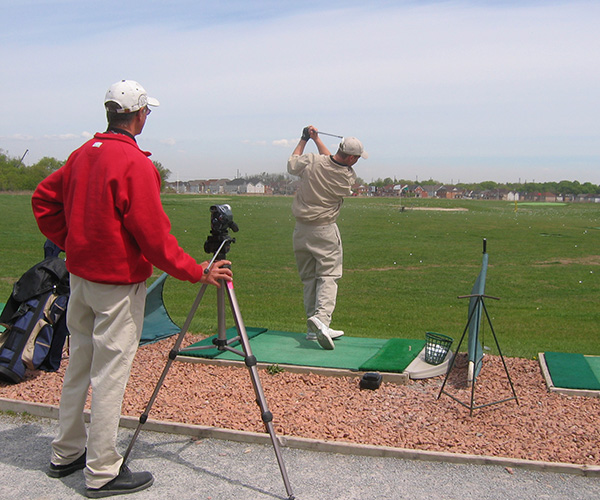 A few program highlights
Goal setting (short & long term)
Analysis of your equipment
V1 Video Analysis
Hitting the driver. How to start the 1st tee with more self assurance. At this level you have to get off the tee well.
How to warm up (using the proper golf specific stretching exercises to get you into the slot)
Alignment of body & clubface to target
Chipping/pitching
The "U" &"V" Swings
The "pop" putt versus the "pendulum putt".
Chipping/pitching (distance & height control).
Greenside & fairway bunker shots.
Pre-shot routine. How to do it, & why should you have one at this level?
Chip & pitch using the "U" or "V" swings. What to look for before you decide on the club to play.
Controlling the spins and trajectories of your ball flights, hitting higher, lower, draws, fades, intentional hooks and slices for appropriate dog legs.
Mastering ball flight, spins and trajectory.
Break 90/80 Program Includes
We customize a program for you based on an Evaluation during the first class, then diligently practice and adopt the changes to be used on the Golf Course … giving feedback after each round … then come back and fine tune the changes, making the necessary adjustments to move forward.
10 hrs of practice/training sessions with Gary Kent. An hour each week for 10 consecutive weeks.
You are welcome to stay after the lesson and practice short game for free.
4 – 5 players per group.
Any age welcome.
Note: Dates probably won't change due to bad weather. Classes will take place in the dome if the weather is inappropriate to be outside.
Everyone in the clinics has their own hitting area.
Classes always start on time.
Make up dates are available if you need to miss a class.
Sessions must be used only in the year of enrolment.
How to Enroll – $359 + HST
Decide which Date and Time slot you would like from the chart below.

STEP 1

Scroll down to the Enroll Now box and quickly get your name in. We will pencil it in until you can secure it with payment, or call 416 402 7171 to enroll & pay now.

STEP 2

Payment Options – (Players paid 1st will SECURE their spots for this program.) Drop off a CHEQUE or CASH to Gary when he is teaching at the dome or use Visa, MasterCard or American Express over the phone (anytime) with Gary at 416 402 7171. Do not send payments in the mail.
Text Gary at 416 402 7171 if wanting to send E-Transfer for payment.
Once enrolled print a copy of the Game Improvement PDF here and bring it with you to the 1st lesson.
If your clinic starts within the next 5 days, you MUST enroll by phone ASAP.
Lessons held at the Markham Golf Dome, 150 Burncrest Rd, Markham Ontario See Map
2018 Starting Dates and Times
Each program runs for ten consecutive weeks.
| Date | Day | Time |
| --- | --- | --- |
| April 19 | Thursdays | 5:30pm to 6:30pm |
| April 25 | Wednesdays | 7:30pm to 8:30pm |
| April 28 | Saturdays | 1:00pm to 2:00pm |
Enroll now! (Step 1 of 2)
I have taken golf lessons before however I find Gary's teaching methods to be the most effective. He gives you a tip or two per lesson so you can work on the small change. Recently, Gary changed my stance, just a small adjustment, and now I am hitting more straight shots, hitting more fairways and lowering my score.

VP, Sony

We find Gary to be very attentive with the combined rarity of making one feel at ease and comfortable while teaching. We now have the confidence to apply our knowledge successfully on the course.