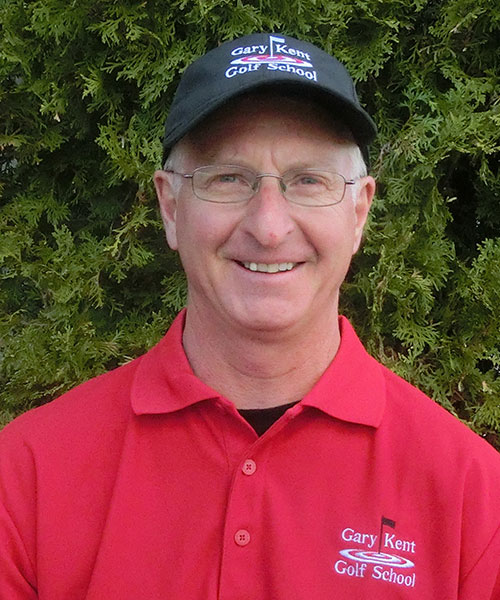 About Gary
Gary is a Class "A" CPGA Head Teaching Professional and is recognized as one of Ontario's finest golf instructors. Gary's natural teaching skills have remained on the cutting edge by working with some of the best instructors in the world, including Jim McLean, Bob Rotella, David Leadbetter, Hank Haney, Jon Sinclair and the Jim Hardy Golf School to name just a few. He has also studied the area of Golf Fitness and Performance. Acquiring a Level 2 Canadian Golf Fitness Certification, which has added a new dimension to the golf school. Helping those with physical handicaps achieve more from the game, or giving guidance to the healthy on how to become much stronger, faster and stable. Since the school began in 1992, Gary has studied flat, upright, slow and fast golf swings being swung by many different body types and has developed an easy-to-understand method that helps players of all levels improve and realize their potential. His training programs strengthen physical, technical and mental aspects of each player's game. Gary has an uncanny ability to quickly and accurately analyze a golf swing and effectively communicate a plan for progress. He believes in building golfers who learn how to "play golf," as opposed to just learning how to swing.
Thank you for everything coach. My experience at the camp has been incredible. You made the impossible look easy. In just one season, I changed from a lousy mediocre lefty golfer to a righty consistent sub 90 golfer. I can now play with full confidence on most reputable golf courses (from East Lake, Sawgrass Players, TPC Vegas, and Rio Secco to Devil Pulpits, Lionhead and EaglesNest). Thank you so much coach for everything and hope to attend your winter camp. ~ Alain, Scotiabank
Our Mission
Our mission as a golf school is to encourage more people to learn and enjoy the game of golf and to contribute to its growth by providing instruction at the highest level to all abilities from the beginner to the elite athlete within a friendly and welcoming environment. This we will do with a team of well trained and highly motivated staff, working together to make our golf school an enjoyable and affordable place to learn/improve at the game of golf. We realize we are one of the leaders in Ontario at stimulating interest in the game of golf with thousands of new players each season but we also want to keep the people already playing, playing well and playing to the standards they aspire to. Each season our golf school will enhance the skills of hundreds of men and women golfers and provide resources for these players on how to play, where to play, where to join as members, what to buy and how much to spend. Our history includes students becoming CPGA Professionals, Private Club Champions at all levels, Mini Tour Players, Long Drive Champions and many scholarship recipients in Canada and the US. In finishing I must say, there are 1000's of people employed in the golf industry all the way down the line. So at the Gary Kent Golf School in doing our part, we try that much harder to ensure our golfers are happy and excited to get to their next game of golf…. because all the way down the line it means a lot… to all of us involved!
My Key Thoughts
 There is more than one way to swing a golf club
There is more than one way to swing a golf club. Whether it be 1 Plane or 2 Plane golf swings. There is also more than one set of fundamentals. But there is only one moment during the swing that really counts – IMPACT! We need to understand what it takes to create a consistent club to ball contact.
Golfers must learn how to control the ball rather than have it control them
Golfers must learn how to control the ball rather than have it control them. On purpose you need to be able to hit it high or hit it low, curve it left or curve it right, make it run or have it stop on a dime.
learning styles
People need to be taught according to their own individual LEARNING STYLES. This makes learning faster and more enjoyable. There are many different personalities, body shapes, sizes and strengths, all of which must be considered.